THIS WEB SITE IS UNDER CONSTRUCTION AND WILL
BE CONTINUOUSLY UPDATED.
CATALYST WATER A TIME PROVEN PRODUCT
Enhanced Water Products Inc., has been in business for over 25 years manufacturing catalyst water products. In fact, Enhanced Water Products has produced and sold over 100,000 bottles of catalyst water. We have also produced private label products for a number of companies, such as Bio-Water for Nutrition For Life. Our company has private labeled catalyst water products for companies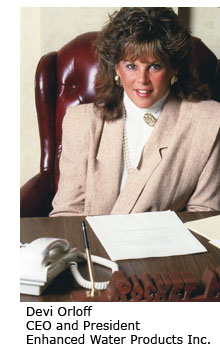 all over the world.

Over the years, we have seen many catalyst water companies come and go. Some of our competitors continue to make hocus pocus claims about their products. This is not only immoral, it is against the law. The fact is, most all of the catalyst waters that are sold today, are close to being the same product. Our competitors will tell you anything to sell their over-priced catalyst water. If they truly want to share their product with the world, they should reduce their price so everyone in the world can afford it.
The founder of our company invented the catalyst gel that many of our competitors have tried to copy. Some of the top athletes of the world have used this gel and the catalyst water in their competitive years. They continue to use it, because of the many benefits they receive.
We do not make any medical claims, and yet we have sold more catalyst water than all the rest of the other catalyst water companies combined. Our satisfied customers continue to spread the good word, and that is why we have continued to be so successful over the years.
Our goal is to provide the world with quality proven products at a fair price.